Discover the Benefits of Giving Wisely
"The whole purpose behind the bell tower was to create something that encourages people to give back to the university that has given so much. It doesn't have to be millions and millions of dollars; it's the giving that is important," Blatchley said.
Read More

Did you know there are creative ways to support Sam Houston State University? Ways in which SHSU, you and your loved ones all benefit at the same time?
Such giving techniques are called "planned gifts," because with thoughtful planning, you create win-win solutions for you and SHSU. For example:
You can make a gift that costs nothing during your lifetime.
You can give stock and realize larger tax savings.
You can get a monthly paycheck for life in return for your gift.
You can donate your house, continue to live there, and get a tax break all at the same time.
Where to Begin?
Don't Know Where to Begin?
Ask us questions, or play with Plan-a-Gift®, our online interactive gift planning tool!
Planned Giving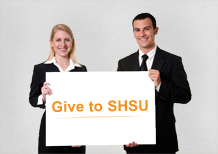 SHSU Main Campus
1806 Avenue J
Huntsville, TX 77340
(936) 294-1111
(866) BEARKAT
The Woodlands Center
3380 College Park Drive
The Woodlands, TX 77384
(936) 202-5000
University Park
20515 SH 249
Houston, TX 77070
(281) 290-2900